2016 Food Drive totals announced!
On behalf of Sacramento Food Bank & Family Services, I want to thank all of the State Employee food drive coordinators who have worked so hard in making the 2016 drive a record breaking success! The impact you have on your community is a true testament to your generosity and willingness to help those in need. It has been my honor to work with all of you on the drive and you should be so proud of your accomplishments. I hope you consider being the coordinator for your agency again next year, as continuity has proven to be an effective tool for increased success. Thank you!
Peggy Marshall, CA State Employees Food Drive Coordinator
Sacramento Food Bank & Family Services
---
A Message from Karen Ross
Secretary, Department of Food and Agriculture
I am pleased to announce the launch of the 2016 State Employees Food Drive. Every year, state employees donate hundreds of thousands of pounds of food to those in our communities who need it most. The theme of this year's food drive is "Giving is in Season Year Round." To begin this year's effort, I am asking you to designate an agency/department representative to help coordinate and publicize the food drive, beginning with our kickoff donation event on September 29, 2016.
The 2016 Food Drive goal is to surpass last year's generous donation level of 720,313 pounds and reach 750,000 pounds. To achieve this, the California Department of Food and Agriculture (CDFA) is pleased to continue its partnership with Sacramento Food Bank & Family Services (SFBFS). SFBFS is Sacramento County's food bank provider, feeding over 130,000 food insecure men, women, and children every month.
I realize that many state employees reside outside of the Sacramento area. Though this does pose a challenge, it presents an opportunity to be creative and work together to reach our ambitious goal. Addison Ford in CDFA's Office of Farm to Fork will act on my behalf as statewide coordinator for Food Drive activities. You may contact her at (916) 900-5083 or addison.ford@cdfa.ca.gov.
Kick-off Event: September 29th Farmers' Market Donations
The 2016 Food Drive kicks off early this year on Thursday, September 29, 2016 with a fresh fruit and vegetable donation day at the Capitol Mall Farmers' Market. While monetary and shelf stable foods are accepted throughout the drive's duration from September to January 2017, the Kick-off Event marks the first opportunity to donate perishable items. Employees who work by the Capitol Mall Farmers' Market are encouraged to purchase produce from vendors and donate directly through the Reverse Food Truck, a program of the American Academy of Pediatrics, California Foundation.
Food Drive Coordinator
Please identify your agency/department representative and coordinator and email the coordinator's name, email address, department/agency address and telephone number to Peggy Marshall at stateemployees@sacramentofoodbank.org, by September 30, 2016. An orientation meeting for the coordinators will be held on Tuesday October 11, 2016 at 2:00 pm at SFBFS, 3333 3rd Avenue in Sacramento . At the meeting, coordinators will receive information and ideas for how to drum up support for this year's Food Drive.
Through your kind contributions we look forward to a successful State Employees Food Drive! Thank you for your commitment.
Karen Ross, Secretary, California Department of Food and Agriculture
1220 N Street, Suite 400, Sacramento, CA 95814
(916) 654-0433, Secretary.Ross@cdfa.ca.gov
---
Turkey Drive - Thanksgiving Day
On November 18, 2016 from 4:30 a.m. - 7 p.m., SFBFS and KCRA hold the largest one day Turkey Drive in Sacramento. Every year there is a goal to collect as many turkeys as possible. Last year, State Employees donated 2,702 turkeys out of the 11,000 total turkeys donated by the community! This year, we want to top that number! Help us secure 12,000 turkeys to help families in need!
More details
---
2015 Food Drive Recap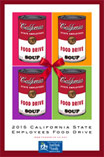 Thank you to all who participated in the 2015 State Employees Food Drive! Through your time, efforts and donations, Sacramento Food Bank & Family Services (SFBFS) is able to feed over 130,000 people in Sacramento County every month. Your generosity makes it possible for us to provide much needed food assistance to hungry families in our community. We simply would not be able to feed those in need without the support of California State Employees!
Over 100 state agencies, departments and offices, in over 200 locations participated in the 2015 State Employees Food Drive throughout the greater Sacramento metropolitan area. Through the California State Employees' efforts, an amazing 231,088 pounds of food were donated to needy families in our area. In addition, a total of $195,689 was also donated and used to purchase additional food. This is equivalent to a combined total of 720,313 pounds of food, all thanks to you!
The food collected during the State Employees Food Drive was distributed by SFBFS to over 200 local partner agencies. Donated funds purchased bulk items such as rice, peanut butter, dry beans and fresh produce. This is not just a holiday food drive. Thanks to the generous hearts of California State Employees, this effort allows SFBFS to serve families in need for many months after the holidays. We can't thank you enough!
---