A Message from Karen Ross
Secretary, Department of Food and Agriculture
March 3, 2017
A heartfelt thank you to each and every person who participated in the 2016-17 State Employees Food Drive. This year was an amazing success, surpassing last year's total donations by nearly 44,000 pounds of food.
The California State Employees Food Drive is the result of the hard work and ingenuity shown by State employees to positively impact their community. I am impressed each year with the level of compassion and commitment that employees display when they donate to the food drive. This year's success is a testament to how hardworking and passionate our California State Employees are to helping those less fortunate in our communities.
The donations this year came from a variety of activities yielding the equivalent of 764,038 pounds of food, surpassing our ambitious goal of 750,000. While much of the donated food was distributed through the Sacramento Food Bank and Family Services, more than 100,000 pounds of food were donated to food banks and pantries outside the capital-area, eventually ending up on the tables of needy families throughout the state.
Over $170,000 came from online and cash donations. These monetary donations will be used throughout the year to help feed needy families in the greater Sacramento area.
This successful drive was only possible through the time, efforts, and donations of nearly 100 different state agencies, departments, and offices. I want to thank all of you for your hard work and contributions. It is with this community spirit that we can look forward to next year's food drive and reaching new goals for feeding needy families.
Sacramento Food Bank and Family Services was our partner in this endeavor and worked tirelessly to coordinate food donation pickups and deliveries. Their staff was essential in making this effort as smooth and easy as possible for everyone, and I am pleased to have them as our partner.
Thank you so much for your hard work and commitment to this important cause!
Yours truly,
Karen Ross, Secretary, California Department of Food and Agriculture
1220 N Street, Suite 400, Sacramento, CA 95814
(916) 654-0433, Secretary.Ross@cdfa.ca.gov
---
2016 Food Drive totals announced!
Correction!
California Correctional Health Care Services was inadvertently left off the Most Improved award list. They donated 100 pounds in 2015 and 4,187 in 2016 so that puts them in 2nd place for Most Improved. Congratulations CCHCS!
On behalf of Sacramento Food Bank & Family Services, I want to thank all of the State Employee food drive coordinators who have worked so hard in making the 2016 drive a record breaking success! The impact you have on your community is a true testament to your generosity and willingness to help those in need. It has been my honor to work with all of you on the drive and you should be so proud of your accomplishments. I hope you consider being the coordinator for your agency again next year, as continuity has proven to be an effective tool for increased success. Thank you!
Peggy Marshall, CA State Employees Food Drive Coordinator
Sacramento Food Bank & Family Services
---
Unclaimed Deposits
Did you or someone from your agency make one of the following deposits? These unclaimed deposits are not credited to any specific agency at this time. Make sure to get credit for your agency's hard work! If so, please send your Wells Fargo teller receipt and deposit slip to Peggy Marshall.
| | |
| --- | --- |
| December 30 | $0.50 |
| January 13 | $15 |
| February 6 | $15 |
| February 7 | $512 |
Turkey Drive - Thanksgiving Day
On November 18, 2016 from 4:30 a.m. - 7 p.m., SFBFS and KCRA hold the largest one day Turkey Drive in Sacramento. Every year there is a goal to collect as many turkeys as possible. Last year, State Employees donated 2,702 turkeys out of the 11,000 total turkeys donated by the community! This year, we want to top that number! Help us secure 12,000 turkeys to help families in need!
More details
---
2015 Food Drive Recap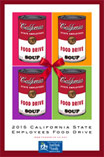 Thank you to all who participated in the 2015 State Employees Food Drive! Through your time, efforts and donations, Sacramento Food Bank & Family Services (SFBFS) is able to feed over 130,000 people in Sacramento County every month. Your generosity makes it possible for us to provide much needed food assistance to hungry families in our community. We simply would not be able to feed those in need without the support of California State Employees!
Over 100 state agencies, departments and offices, in over 200 locations participated in the 2015 State Employees Food Drive throughout the greater Sacramento metropolitan area. Through the California State Employees' efforts, an amazing 231,088 pounds of food were donated to needy families in our area. In addition, a total of $195,689 was also donated and used to purchase additional food. This is equivalent to a combined total of 720,313 pounds of food, all thanks to you!
The food collected during the State Employees Food Drive was distributed by SFBFS to over 200 local partner agencies. Donated funds purchased bulk items such as rice, peanut butter, dry beans and fresh produce. This is not just a holiday food drive. Thanks to the generous hearts of California State Employees, this effort allows SFBFS to serve families in need for many months after the holidays. We can't thank you enough!
---